Hi Link HLK 5M12 – 12V 450mA – AC to DC Power Supply Module

GST Credit of ₹39.36available.
Know More
Output Voltage: 12 VDC
Output Current: 450 mA
Universal Input Voltage Range: 85 to 264 VAC
CE and ROHS Certified
Small Size
Meets IP65 Standards
Description
The Hi Link HLK 5M12 is a 5W series AC to DC Power Supply Module from Hi Link. This modules are very compact in size, highly reliable. They also feature Output short circuit protection, and over-current protection along with self recovery.
The Hi Link HLK 5M12 Power Supply Module is usable without any external circuit. It is PCB Mountable. And also feature Universal Input Voltage range, which is a big advantage. It also features low temperature rise, low power consumption, high efficiency, high reliability, and high safety isolation.
The module provides 12V Output with 450 mA Output current at 5W. The HLK 5M12 power supply modules are also having CE certification.
Features
Ultra thin, ultra small
Universal Input Voltage Range: 90 to 245 VAC
Low ripple. low noise
Input to Output Isolation Voltage: 3000 VAC
Meets UL, CE requirements
Product design meets EMC and Safety testing requirements
Uses high quality Water Proof Plastic Potting, moisture, vibration, water and dust to meet IP65 standards
Specifications
Input Voltage Range: 85 to 264 VAC
Max Input Current: < 0.2 A
Input Inrush Current: < 10 A
Rated Output Voltage: 12 VDC
Short-time Max Output Current: > 540 mA
Long Time Max Output Current: > 450 mA
Output Over-current Protection: 110 – 150%
Hi Link HLK 5M12 Footprint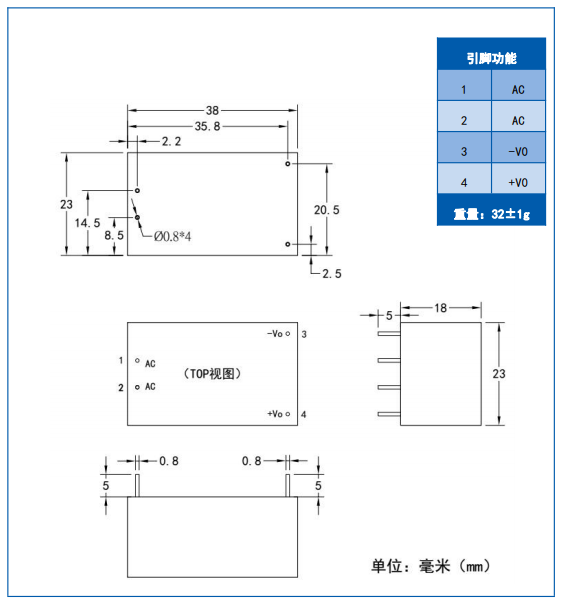 For more details, visit the downloads section.
Specification
Additional information
| | |
| --- | --- |
| Weight | 29 g |
| Dimensions | 38 × 23 × 18 cm |