Hi Link HLK 10M05 – For 5V 2A – AC to DC Power Supply Module

GST Credit of ₹40.32available.
Know More
Universal Input Voltage Range
Output Voltage: 5 VDC
Output Current: 2A
Meets UL,CE Certification standards
Product is Designed to meet EMC and Safety Test
Description
The Hi Link HLK 10M05 is a AC to DC Power Supply Module, compact in size, and highly reliable. The output of this module is 5 VDC, with max current of 2A, with power rating of 10W. This module provides a convenient way to convert 100-240 VAC to 5 VDC @ 2A.
The Hi Link HLK 10M05 AC to DC Power Supply Module has various features such as high reliability, ultra small package, universal input voltage range, and high isolation.
Features
Ultra thin, ultra small
Universal Input Voltage: 90 – 245 VAC
Low Power Consumption
Output short circuit and over-current along with Self Recovery
High Efficiency
Input to Output Voltage Isolation: 3000 VAC
Meets UL, CE requirements
Specifications
Input Voltage Range: 90 – 245 VAC
Max Input Current: < 0.2A
Output Voltage: 5 VDC
Short-time Max Output Current: > 2200 mA
Long Time Max Output Current: 2000 mA
Hi Link HLK 10M05 Footprint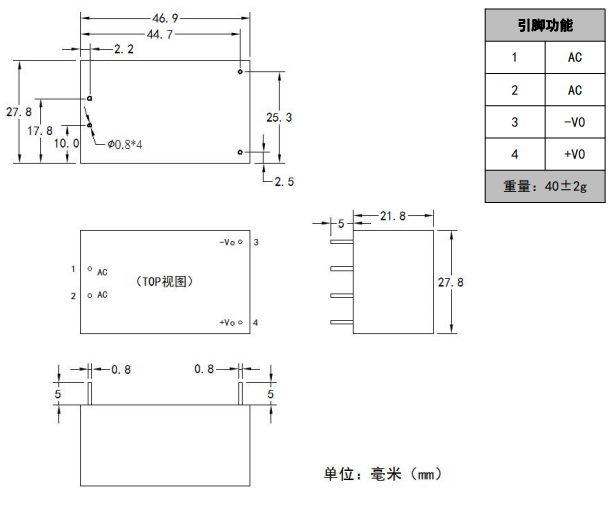 For more details, visit downloads section.
Specification
Additional information
| | |
| --- | --- |
| Weight | 49 g |
| Dimensions | 46.9 × 27.8 × 21.8 cm |