Automatic Hand Sanitizer Dispenser Kit

GST Credit of ₹170.82available.
Know More
Automatic Sanitizer Dispenser Kit
Operating Voltage: 12V DC
Current Required: 400 mA Max, 100 mA Continuous
Sanitizer Output: 2-3 ml on each trigger
Buzzer Plays on a trigger
Alternate Product : Solderless Sanitizer Dispenser Kit
Get an alert when the product is in stock:
Description
This is a Automatic Hand Sanitizer Dispenser Kit. The kit contains DIY Sanitizer Dispenser Controller Module, 1 litre bottle with leak proof connector, 6.3 mm pipe, a buzzer, solenoid valve, and a 12 VDC adapter.
The working of this Automatic Hand Sanitizer Dispenser is very simple. When the user puts the hand below the sensor, the sanitizer comes out of the solenoid valve. On each operation, 2-3 ml of sanitizer comes out of the nozzle.
This kit is very cheap. And is very easy to hook up and making it running.
We also have a detailed guide on how to connect it here.
The bottle in the kit comes with Leak Proof Connector. The solenoid valve and the leak proof connector, both are of push fit type. So, it allows us to directly push the 6.3 mm pipe onto both of them without worrying for any leaks.
Specifications
Operating Voltage: 12V DC
Current Requirements: Max 400 mA, continuous 100mA
Liquid Output: 2-3 ml on each trigger
Detection Range: 6 inches
Buzzer will play whenever user puts hand below the sensor
Connection Diagram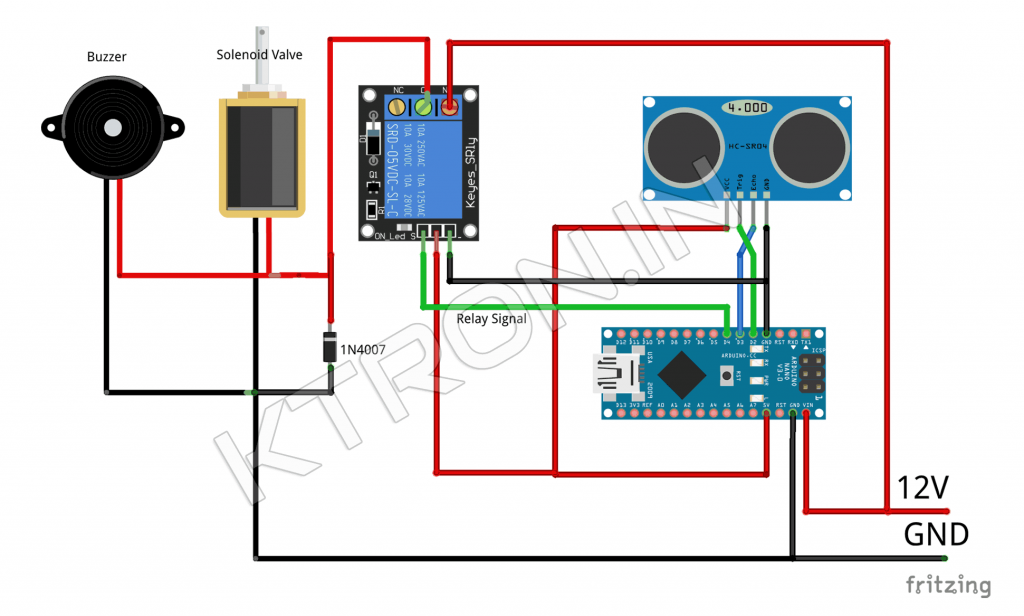 Kit Contains
Arduino Nano x 1
1 Channel Relay Module x 1
12 V Buzzer x 1
Ultra Sonic Sensor x 1
1 Litre Bottle with Leak Proof Connector x 1
Solenoid Valve x 1
12V 1A Adapter x 1
6.3 mm Pipe x 6 inches
Cable Tie x 3
Male to Female Jumper Wire x 10
1N4007 Diode x 1
100nF Ceramic Capacitor x 1
1 MΩ Resistor x 1
Let's fight Corona Together.