TP5100 Dual/Single 8.4V/4.2V Li-ion Battery Charging Module

GST Credit of ₹9.58available.
Know More
Dual/Single 4.2V/8.4V Li-ion Battery Charger
Input Voltage: 5V to 18V
Programmable Charge Current: 0.1A to 2A
Chip temperature protection, Overcurrent protection, undervoltage protection
Reverse Battery Shutdown, and short circuit protection
Trickle, constant current, constant voltage charging 3 states of charging
Description
TP5100 is a step down double 8.4V/4.2V single lithium battery charge management module. It has in-built overcurrent, under voltage, short circuit protection. Along with this it also provides over temperature, and reverse battery shutdown protection.
The TP5100 Module can charge either single or double lithium ion cell battery. It has wide input voltage range of 5V to 18V. It has Maximum charging current of 2A.
The TP5100 Module has frequency of 400Khz switching mode. So it becomes possible to use smaller capacitors, and peripherals. And also enables maintaining of smaller amount of heat in high current charging. It has charging indicator LED.
The default charging mode is for 4.2V. To enable the 8.4V Charging mode, the SET pin needs to be soldered.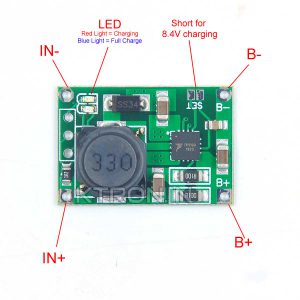 Dual/Single 8.4V/4.2V Lithium Battery Charger
Built-in MOSFET, switching mode regulator
Programmable charge current: 0.1A to 2A
Wide operating voltage: 5V to 18V
Blue Light = Full Charge, Red Light = Charging
Jumper pins (SET) to enable 8.4V charging mode
Protection : Chip temperature, overcurrent, undervoltage
3 charge methods: pre-charge trickle charging, constant current, constant voltage